Walton Read-a-thon
The Walton Elementary school library needs $12,000 for more books! The school's 550 students take 1500 books in and out of the library every week, and they're wearing out. This Walton PAC fundraiser supports the school's library to keep the kids excited about reading.
We reached our Read-a-thon goal - thank you for your support!
View our Read-a-thon summary


Each Walton student is planning on reading everyday for the month of January to raise $12,000 for the school library. This money will go towards keeping the existing books in good repair, and purchasing new ones for the next 4 years. Please support our read-a-thon!

There are a couple ways that you can help us out:

1. Become a Sponsor. If you're able to support us with at least a $500 commitment, consider amplifying your giving by becoming a matching sponsor. You can influence more donations by donating a dollar for every dollar raised (up to a maximum you decide). Please contact waltonpacfundraising@gmail.com to become a matching sponsor.

2. Donate to a classroom. Find the link to the classroom of the student you're supporting in the list below, and then click on the 'Give to this Group' link.

Kindergarten
Ms. Biedka's Kindergarten Div 21 class
Ms. Dittrick & Mrs. Cimaglia's Kindergarten Div 23 class
Ms. Thiara's Kindergarten Div 22 class
Ms Suen's Kindergarten Div 24 class

Grade 1
Ms Cui's Grade 1 Div 20 class
Ms Vanderliek's Grade 1 Div 19 class
Mrs. Dupuis's Grade 1 Div 18 class
Mrs. Hoang's & Ms. Bentley's Grade 1 Div 17 class

Grade 2
Mr. Chiang's Grade 2 Division 16 class
Ms. Howells Grade 2 Division 15 class
Mrs. Evans Grade 2 Division 14 class
Mrs. Dane's & Mrs. Sluis' Grade 2 Division 13 class

Grade 3
Ms. Zhang's Grade 3 Division 12 class
Mrs. Thompson's Grade 2/3 Division 11 class
Mrs. Palmer's Grade 3 Division 10 class
Mrs. Wegrich's Grade 3 Division 9 class

Grade 4
Ms. Zhou's Grade 4 Division 8 class
Ms. Sedlacek's Grade 3/4 Division 7 class
Mr. Ross' Grade 4 Division 6 class
Mrs. Creightney's & Mrs. Johnston's Grade 4 Division 5 class

Grade 5
Ms. Ji's Grade 5 Division 4 class
Mrs. Rajwani's & Ms. Bentley's Grade 4/5 Division 3 class
Mr. Finlay's Grade 5 Division 2 class
Mrs. Friend's Grade 5 Division 1 class

Many thanks to our sponsors, who are matching every dollar donated with their own dollar!
Cortney Lessard - Realtor
Church's Chicken
Zac Jacobson - Parent
James Garbutt - Realtor
Monarch Pediatric Dental Centre
Dave Tang CPA - Parent
Pediatric Dental Group (PDG)
Kho Tian Hu - Grandparent
A Buyer's Choice Home Inspections - TriCities
TriCity Chinese Canadian Association





Watch our Walton Reading Tree bloom as the kids add a leaf for every book they read. A shout out to Ms. Augustyn for putting the tree together.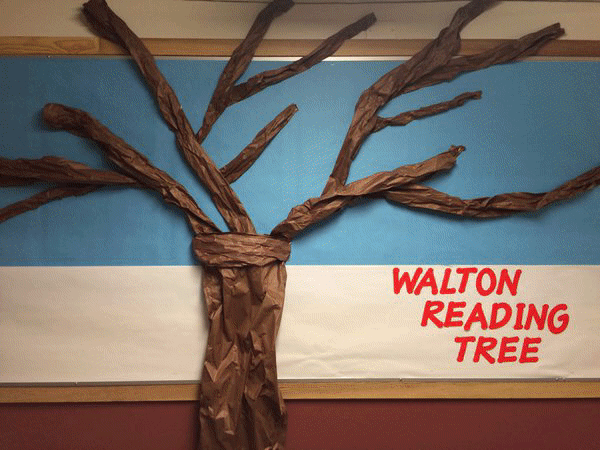 Your support is appreciated!